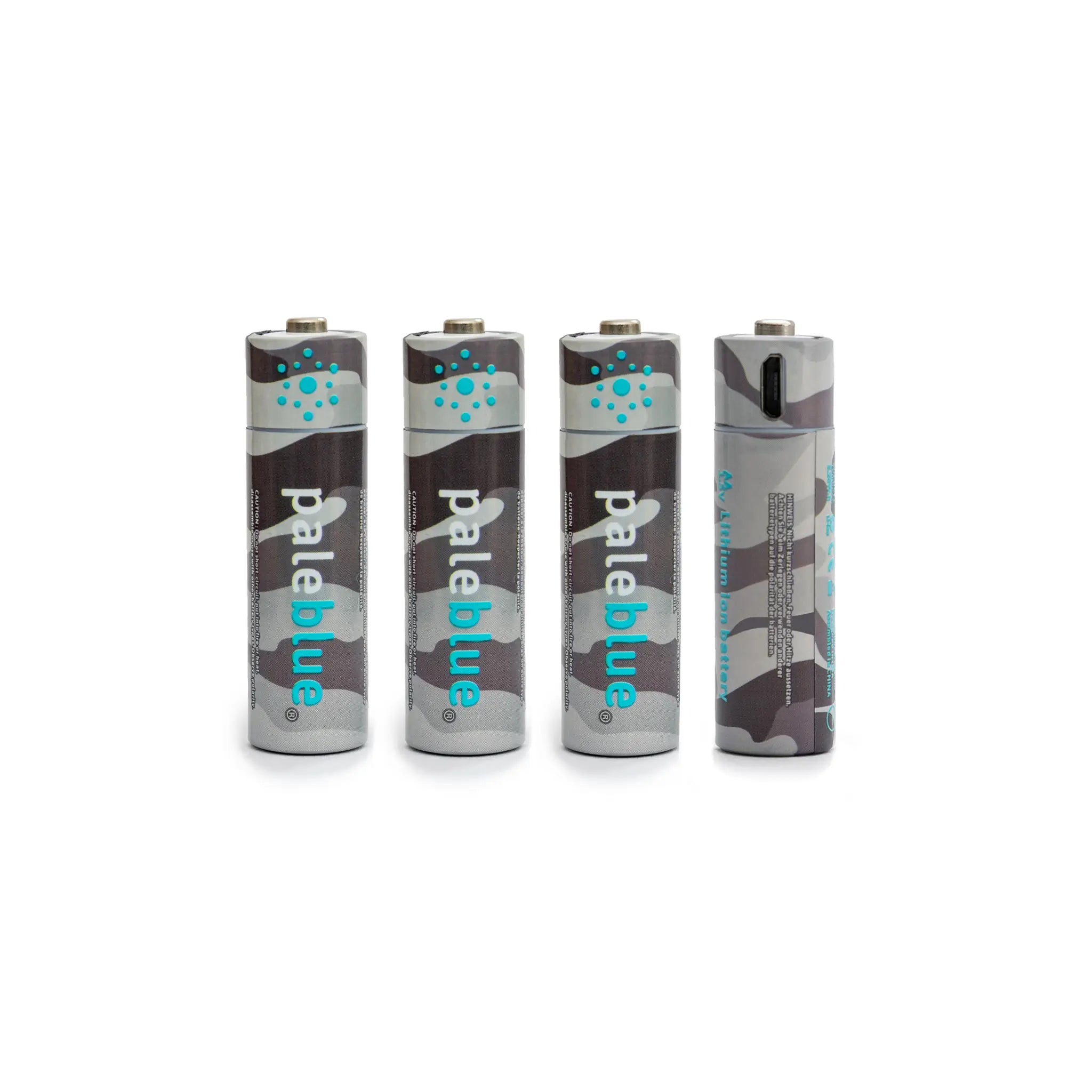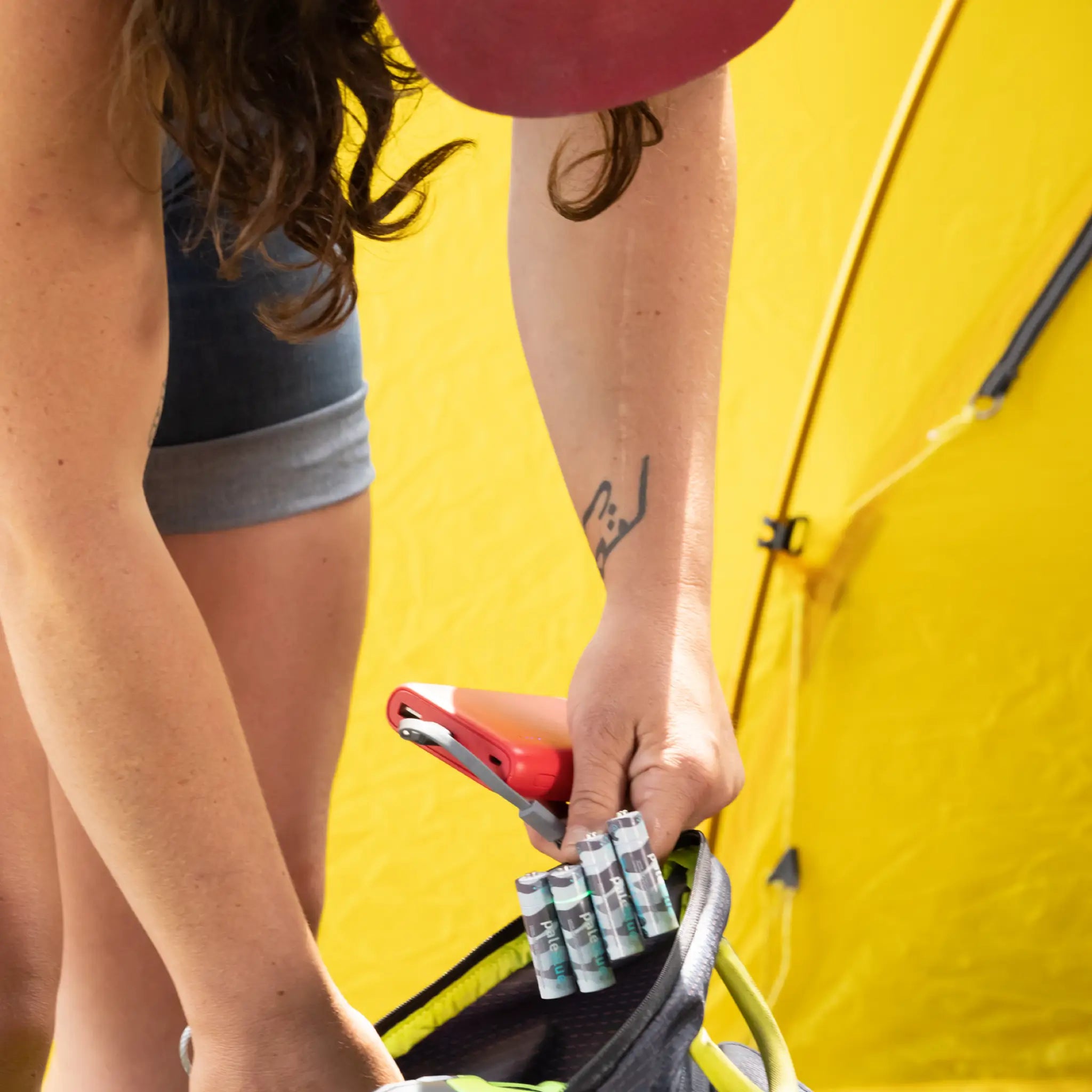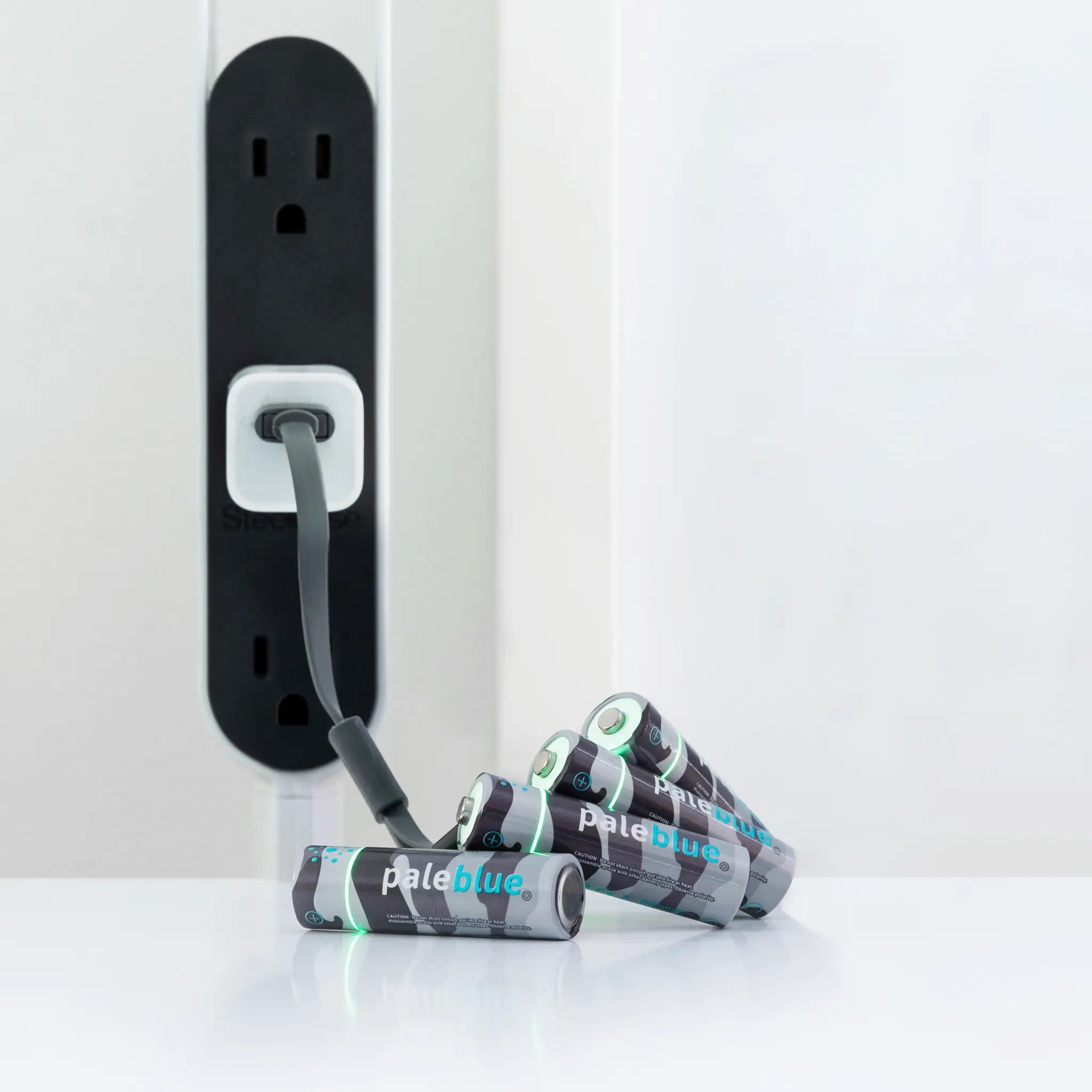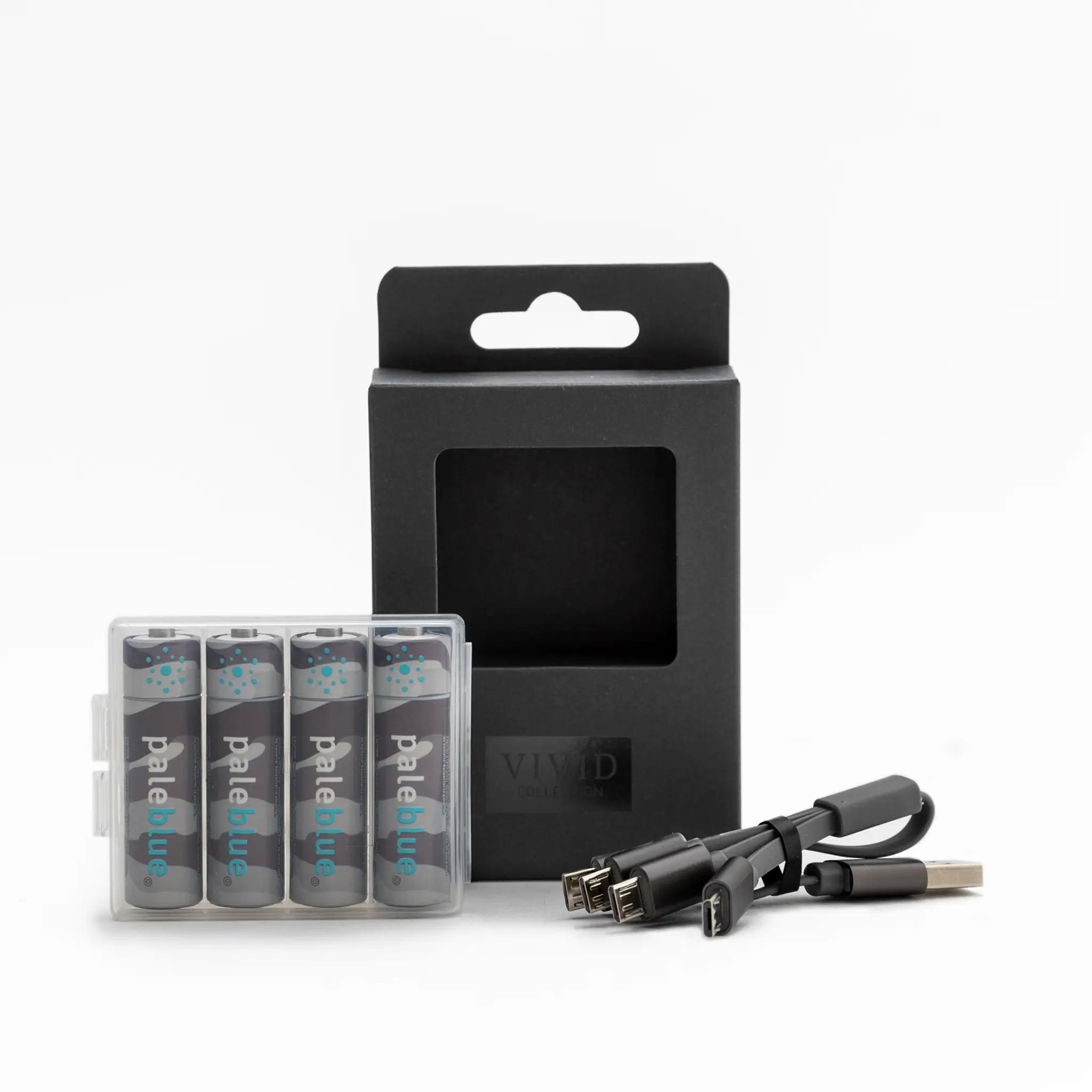 VIVID Stealth - AA USB Rechargeable Batteries
Stealth 4 Pack:
- 4 Paleblue Stealth Vivid AA Batteries 
- 1 Charging Cable

__

All packaging is curb recyclable. Storage cases are included for all batteries.

Chemistry: Lithium Ion
Power [W-h]: 2.25 Watt hours
Voltage: 1.5V
Capacity: 1560 mAh
Charge Time: 1 hour (depending on charger specifications)
Cycle Rating: 1000+ Cycles
Charging Cable: USB to 4 Micro USB
Charge State Indicator: Green LED
Protection Circuit: Integrated safety circuit protects battery and device
Overheat Protection: Operating at max output the battery will not overheat, this is part of the protection circuit.
Other Safety Protections: Protects against Overload, Leakage, Short Circuit, Over Voltage, & High Temperature
Certifications: IEC 62133, CE, FCC, PSE, UN38.3, RoHS, REACH
Operating Temperature Rage: -20c -> 60c, (-4F-> 140F)
Self-Discharge: The dormant / self discharge characteristics of Pale Blue batteries are very low. This is one of the advantages of a lithium ion battery with a control circuit, vs an alkaline or NiMh battery, where the cell discharges directly into the circuit (no control circuit). The battery life in dormant mode depends partly on the environment. High ambient temperatures, and higher humidity, increases the internal drain. But in normal circumstances a battery installed in a device, like a door lock, will last ~12 months.
Cells Per Battery:1
Lithium Content: 0.165g
Individual Battery Weight: 17.5g
Origin: Designed in U.S.A Assembled in China
Free domestic shipping on orders $49 & Up

- 30 day return limit on all orders

- Unfortunately, we are unable to ship to Alaska and Hawaii at this time due to recent changes in shipping regulations. Please sign up for our newsletter to be informed when that changes.

- We are not currently shipping internationally. To get updates on when we will be shipping to your region sign up for our newsletter!

- At Paleblue, we stand behind the quality of our products with a limited lifetime warranty, covering manufacturing defects and failures during normal use. Learn More
Stealth
Limited Edition Artist Series
Paradise
Limited Edition Artist Series
Ridgeline
Limited Edition Artist Series
Limited release artist designs on our lithium USB rechargeable batteries.
---
Our AA batteries feature a mirco-USB charging port directly in the battery so you can charge up using any micro-USB cable or our included 4-to-1 cable.
Fully charged in under 1 hour.
---
With our advanced lithium rechargeable technology, Paleblue batteries charge 5x faster than conventional Ni-MH rechargeable batteries. Paleblue batteries provide higher power and more consistent output through their use cycle.
A Sustainable Battery Solution
---
One Paleblue battery can replace up to 1,000 single use batteries. That's over 50 pounds of batteries that won't end up in a landfill.
AA's to power Tree Branch LED lights
I purchased 21 AA batteries to power 6 tree branch led lights and 1 led globe in our living room, replacing conventional Duracell batteries. The lights are on a timer and run for 6 hours each night. The conventional batteries would power them for approximately 3 to 4 weeks, but get progressively dimmer as the battery voltage dropped. With the Pale Blue batteries, I have to recharge them after the 4th 6 hour cycle. I had hoped they would have lasted longer, but on a positive note the lights remain bright until they go off, and I'm no longer recycling large amounts of batteries.
Rechargeable Eye Candy
They work great, and they look great; I hope Pale Blue continues to collaborate with artists for the VIVID line. It's a functionally inconsequential detail, but I find the art for the battery covers to be very charming.
VIVID Stealth - AA USB Rechargeable Batteries
Style and Performance
Love these Vivid AA batteries! Why do products go in something have to be bland and boring? I use these in my RC car remotes and they work great!